Want the inside track on new comedy talent to check out this year? We ask several respected comedians and club promoters who they will be backing in 2010.
Adam Riches as Federation Against Copyright Theft officer - Victor Legit
Looking back over 2009, there have been some really exciting performers getting the recognition they deserve. Fergus Craig (one half of talented sketch duo Colin and Fergus) won the Hackney Empire New Act of the Year competition with his new solo routine; while Matthew Osborn's 'posh snob' persona saw him bag the 'English Comedian of the Year' title. Jonny Sweet duly received the 'Best Newcomer' award at the Edinburgh Fringe and his sketch partner Simon Bird was also applauded by the British Comedy Awards for his role in E4's The Inbetweeners.

So what about 2010? Who should we all be hot-footing it out to see? If we were to choose some of our favourites we could name Naz Osmonoglu, who shines as both a solo and sketch performer (in WitTank); David James, a new stand-up who is already a masterful storyteller and both Delete the Banjax and Lady Garden – two inventive sketch groups with bags of talent.

But more importantly, what about the industry professionals? What do they think? We thought we'd ask a few comedians and comedy club promoters who they are tipping this year and why.

Rupert Majendie
Club promoter, Knock2Bag

Adam Riches' show Rogue Males was one of the best things I saw in Edinburgh this year and his character Victor Legit, the DVD anti-piracy warrior, is one of my favourites on the circuit. He's so quick-witted on stage and his audience skills are an absolute joy to watch. Expect big things from him this year.
Also I think Daniel Simonsen (pictured below), the young Norwegian who won the So You Think You Are Funny? competition in 2008, has huge potential. His face, accent and wry look at the world, make for refreshingly silly stand-up. Will Andrews is also a very original and different act and Colin Hoult is totally contagious.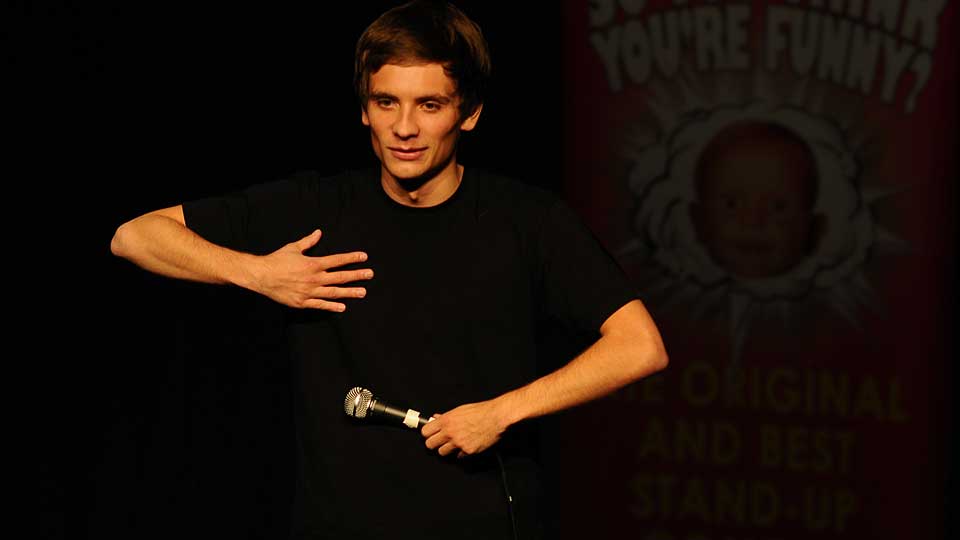 Josie Long
Stand-up comedian
The new comedians I like at the moment are: Hatty Ashdown, Joey Page, John Luke Roberts, James Acaster, Sara Pascoe, Nat Luurtsema, Henry Widdecombe and Ben Partridge. I've performed with them several times and they are all great!

Martin Besserman
Club promoter, Monkey Business

He's not new but I reckon Simon Brodkin (who plays Lee 'Nelsy' Nelson) will be the next big thing in 2010. He's starting to get a lot of attention now and will get even more with his new TV show coming up. He always delivers inventive new material and has been known to save the night on many an occasion.
Daniel Simonsen has a lot of potential and should have more recognition – he's a likable comic with youth on his side. Frisky & Mannish (pictured below) have done really well this year, if you haven't seen them yet - check them out. I first saw them about 18 months ago and thought they were sensational. As well as being musically talented, they work really hard to put on a proper show.
Tiernan Douieb
Stand-up comedian and club promoter, Fat Tuesday

There are far too many good new comedians to look out for at the moment, which is brilliant. Though I do wish there weren't, for fear that I will never work again. Some of my faves are: Helen Arney, whose solo show was one of the most delightful and lovely funny things I saw at this year's Edinburgh festival and Tom Craine, who's a sharp gag writer and great performer despite appearing to be one of the most disorganised humans on earth.

Also highly recommend Nish Kumar, Nat Luurtsema, Elis James and Josh Widdicombe among many others. Go see all of them. Hurry up!

See more London Newcomers
See all London Comedy